Using tech to improve business performance
Digital Strategy
Digital strategy focuses on using technology to improve business performance, whether that means creating new products or reimagining current processes. It specifies the direction an organization takes to create new competitive advantages with technology, as well as the tactics it will use to achieve these changes.
How to create a plan to boost leads and sales from online marketing? Without a solid roadmap to success, you will be left behind.  Get the tools you need to create a digital marketing plan
Do you have a clear, integrated strategy for digital marketing?
Nearly 50% of businesses still don't have a clear digital strategy.
Lack of clarity in online marketing means that you probably don't have clear goals for digital marketing or the right KPIs to measure how well it's working for your business.
Our research shows that many businesses don't have a structured digital marketing plan, yet they are doing digital marketing.
Worse still, you may be investing in the wrong tactics, so your competitors will get further ahead.
We are here to help you.
Our expertise is in helping businesses develop effective digital strategies which help them compete better.
Create a winning Digital Marketing and Planning strategy
Our comprehensive Digital Marketing and Planning is trusted by marketers and our trusted companies all over.  We help create a winning Digital Strategy by:
Planning: creating a digital plan with our senior digital strategists
Building Reach: increase awareness and demand while attracting targeted visitors to your website
Acting: defining customer journeys for your brand and maximize leads
Converting: persuading prospects to convert through online and offline channels
Engaging: develop long-term customer value using email and social media marketing
Digital marketing Audit
How will this audit help me and my business?  Do you want to know where you most need to improve your digital marketing? With so many great opportunities for deploying digital marketing, it can be difficult to know which to prioritize. In larger businesses, you will need to justify your plans to the CEO, colleagues and IT by showing clear priorities.
Who is this audit for?
We've designed this audit spreadsheet to be as flexible as possible, so it can be applied for different types of businesses and roles:
Company directors and marketing managers –identify priorities you can direct your team and agencies to work on
Digital marketing managers –create a prioritised roadmap of digital marketing activities and review actions as a checklist
Agencies and consultants –use it to compare against and improve your own marketing audits and recommendations to clients
Reach –Organic and paid exposure across digital channels
Using tools like Rank Checker, we measure how well you rank organically on branded and category or industry keywords and phrases across major search engines
Do you have an email marketing program in place? What are your open rates, click rates, content and editorial guidelines?
Do you have a presence on social media channels relevant to your organization? Measure potential reach via likes, followers, subscribers, channel views, video or image views. More importantly, we measure % effective reach per channel by adding engagement activities such as likes + comments + shares and dividing them by potential audience size.
Are you running pay per click advertising campaigns, display advertising campaigns or mobile ads? We measure impressions and click through rates per ad channel.
Architecture –Channel design, structure and functionality
Assess website usability. How are graphic elements used? How effectively is information presented and consumed? The audit tests things like loads times, link integrity, navigation, UI and UX.
How well are your social media channels set up? Are profiles, descriptions, tags, and links optimized?
Content –Process and assets
Do you have a content strategy in place? Do you have content creation workflows in place? Is there a mechanism to measure what's working and what isn't?  Are you consistent in reaching out to existing and potential customers
How strong are your content assets? What formats are you using? Text? Video? Photos? Audio? Applications?
Conversion –Activation of visitors
Are your digital channels designed with a conversion funnel in mind?
Do you have any forms on your website, facebook, blog, surveys ? What is your rate of form fills per visitor? What is your form abandonment rate?
Do you have clear calls to action on your web pages, Facebook pages, blog, podcasts, videos?
Integration –Connection of all online and offline touch points
Are social media channels accessible from your website?
Are you cross linking from one social media channel to another? Are you linking back to your website from social media channels?
Do your offline activities connect back to digital channels i.e. print ads, trade shows, accolades, endorsements?
Measurement –Digital objectives, metrics and performance
Do you have objectives in place for awareness, influence, engagement and action?
What metrics are you using to gauge performance?
Do you have reporting protocols in place? What is the frequency of measurement and reporting? Are there feedback loops in place? Are reports analyzed and acted upon?
Assessing these audit areas internally and benchmarking your performance against your competitors where possible is the final stage of a digital audit. Has your organization conducted a digital audit recently? Were the findings helpful in advancing your digital strategy? Is there anything else you measured?
A robust digital marketing strategy details following goals:
Short-term
Medium-term
Long-term
Setting multiple types of goals allows you to develop a better plan for your business. You can make short and medium-term goals that help push you towards achieving your long-term goals, for example.
How are digital marketing campaigns and digital marketing strategies different?
When you learn about what a digital marketing strategy is, you might wonder if digital marketing campaigns are the same thing
Digital campaigns and digital strategies are not the same
Digital campaigns are what you use to achieve the goals of your digital strategy
If you want to use Internet campaigns successfully, you need to create a digital strategy
Your online strategy will help you build successful and strategic web campaigns. A top-notch Internet marketing strategy will help you earn valuable leads and revenue for your business
How to create a digital marketing strategy in 4 steps
Now that you know what a digital marketing strategy is, you can start creating one for your business.  Keep reading to learn how to develop your digital marketing action plan in four steps:
1. Create buyer personas
If you want to launch a successful online marketing strategy, you must know who you're targeting. You can't have a successful strategy if you don't know who wants your products or services
The best way to establish who is in your target audience is to create buyer personas
Buyer personas are personas that represent the people interested in your business
Most companies have a few types of people interested in their products or services. Creating personas helps you understand each type of person that wants to buy your products or services
Building a strong marketing strategy starts with detailed and robust buyer personas. If you know who your ideal customer is, you can target them in a way that appeals to them
So, how do you create a buyer persona?
Base your buyer personas off current customer data. Research your audience and interview them to learn more about them. You want to base your buyer persona on real data to ensure that you don't make the wrong assumptions about your audience.  It's essential to document demographic information like:
You'll also want to know more personal information, such as:
Goals
Interests
Hobbies
Challenges
From this information, you can start to form personas for your business. These personas will help shape your strategy and determine which channels you should use to reach people.
2. Set your goals
If you're going to create a digital marketing action plan, it's essential that you have goals. You can't create a strategy without knowing what you want to achieve. By setting goals for your campaign, you'll know what you want to accomplish with online marketing.  Focus on short, medium, and long-term goals.
Your goals should align with your business's goals. Whether it's to earn a certain amount of conversions or obtain a specific number of leads, you'll want to set strategic goals that help you achieve your overall goals.
When you set goals, you must establish:
What you want to achieve
When you want to reach it
How you'll measure that achievement
3. You'll want to create S.M.A.R.T goals for your digital marketing strategy
S.M.A.R.T stands for:
Specific: Your goals are precise to what you want to achieve. You don't want to set vague goals like, "get new customers," but rather, "earn X amount of leads."
Measurable: When you set goals, you want to measure whether you've accomplished that goal. When you create a goal like, "earn X amount of customers," you can measure how many customers you obtain to see if you've met that goal.
Attainable: Many companies make the mistake of setting goals that aren't realistic. You wouldn't set a goal to earn 200 leads if that isn't feasible for your business. Instead, aim to set competitive goals, but not impossible ones.
Relevant: Your goals should relate to what you're trying to achieve with your campaign and your business. You wouldn't set a goal to get "X number of email subscribers" if you aren't running an email campaign. Your goals should always align with what you want to accomplish.
Timely: When you set goals, it's crucial that you establish a timeframe for achieving them. You want to give yourself a deadline for reaching your goals. Whether it's weeks, months, or years, ensure your goals have a timeframe.
S.M.A.R.T goals will help you create better targets for your digital marketing action plan. You will see more successful results with your campaign when you set goals that you can measure and knock out.
Your S.M.A.R.T goals will also help you establish key performance indicators (KPIs) for your campaign.
KPIs are figures that help you identify and establish how to measure the success of your campaign. You want to look at metrics, like bounce rate or page views, that will showcase whether you're succeeding with your campaign.
4. Establish your budget
When setting up a digital marketing strategy, it's essential to know how much you can spend and what resources you have for your campaign. You don't want to plan for an online marketing strategy that goes beyond your means.
First, establish a budget for your marketing efforts. It's most effective if you create a budget for each campaign. This division ensures that each method has a set budget, and you know how much you can spend on each one
If you only have one budget for all your marketing efforts, you may end up over-investing into one digital marketing tactic
Aside from your budget, you'll also want to establish your resources. People are one of your most essential resources. You must determine how many people you have to work on your online marketing campaigns
Another resource is tools
If you have any marketing tools, like Google Analytics, that help you run or analyze your campaign, you'll want to take those into account towards your budget and means.
Establish your budget and resources, so you know what you have before launching your strategy
Build your digital marketing action plan today
A web marketing strategy is a crucial part of helping your business grow. When you have a digital marketing action plan in place, you'll keep your business focused on achieving your goals.  Bring in an external and independent "digital evangelist" to help the process.
7 components of digital strategy
Here, we'll look at the recipe for digital marketing success — seven digital marketing components you'll want to add to your digital strategy.  What are the major components of digital marketing?  On their own, digital marketing strategies are powerful. Combined in the perfect proportions? A recipe for success.  Typically, digital marketing components include:
Search engine optimization (SEO)
Pay-per-click advertising (PPC)
Web design
Content marketing
Social media marketing
Email marketing
Analytics
Now that you have an overview, let's take an in-depth look at each digital marketing element.
1. Search engine optimization (SEO)
The foundation for successful digital marketing, search engine optimization (SEO) refers to a number of strategies designed to boost your rankings in online search results.
Why do you want to achieve top rankings?
A staggering 75 percent of people don't look past the first page of search results
You can have the best-designed website in the world, but if it doesn't rank on the first page, most people will never find it
When your website ranks at the top of search engine results pages (SERPs), more qualified leads will find and contact you when searching for products or services related to your business.
In other words, higher search rankings translate into more leads, phone calls, and revenue for your company
How do you rank in search results? You can use numerous SEO strategies for your business including:
Create quality content that answers searchers' questions
Clean up your site's code and increase page speed
Streamline your site's design and navigation to improve user experience (UX)
Earn backlinks from reputable sites
It's important to remember that SEO is a long-term strategy, so don't expect to see results overnight. While SEO requires regular upkeep to maintain top rankings, the results are well worth the investment for your business.
2. What is Pay-per-click advertising (PPC)
What is PPC?
PPC stands for pay-per-click, a model of internet marketing in which advertisers pay a fee each time one of their ads is clicked.
It is a way of buying visits to a site, rather than attempting to "earn" those visits organically
Search engine advertising is one of the most popular forms of PPC
It allows advertisers to bid for ad placement in a search engine's sponsored links when someone searches on a keyword that is related to their business offering.
Every time an ad is clicked and sends a visitor to that website, advertiser has to pay the search engine a small fee
When PPC works well the fee is small, because the visit is worth more than what is paid.  In other words, if we pay $1 for a click, but the click results in a $50 sale, then it's worth it
PPC Campaign
Designing a good PPC campaign requires effort from researching, selecting right keywords to organizing keywords into well-organized campaigns and ad groups or setting up optimized PPC landing pages that covert
Search engines reward advertisers who create relevant, intelligently targeted pay-per-click campaigns by charging them less for ad clicks
If the ad and landing pages are content rich, informative, useful and satisfying to users, Google charges less per click.

So if you want to start using PPC, it's important to learn how to do it right
What is Google Ads?
Google Ads, formerly known as Google AdWords, is most popular PPC advertising system in the world. The Ads platform enables businesses to create ads that appear on Google's search engine
Google Ads operates on a pay-per-click model, in which users bid on keywords and pay for each click on their advertisements
Each time a search is initiated, Google searched its pool of Ads advertisers and selects a set of winners to appear in the valuable ad space on its search results page
The "winners" are chosen based on a combination of factors, including the quality and relevance of their keywords and ad campaigns, and the size of keyword bids
More specifically, who gets to appear on the page is based on and advertiser's Ad Rank, a metric calculated by multiplying two key factors –CPC bid or the highest amount advertiser is willing to spend and Quality score which is the value that takes into account click-through rate, relevance, and landing page quality
Thes ystem allows winning advertisers reach potential customers as per their budget
A successful PPC ad depends on which keywords and kinds of matches selected. Many factors determine how successful a PPC campaign will be, one should focus on:
Keyword Relevance –drafting relevant PPC keyword lists, tight keyword groups and ad-text
Landing Page Quality –create optimized landing pages with relevant content and clear call-to-action
Quality Score – quality score is Google's rating of quality and relevance of keywords, landing pages and PPC campaigns. Advertisers with better Quality Scores get more ad clicks at lower costs.
Creative –creative ad copy is vital and if advertising on a display network, use tools
PPC Keyword Research
Keyword research for PPC is time-consuming, but imperative.  PPC campaigns are built around keywords, and most successful Google Ads advertisers continuously grow and refine their PPC keywords list.
An Effective PPC keyword list should be:
Relevant –one doesn't want to be pay for traffic that has nothing to do with the business. Finding targeted keywords that lead to a higher PPC click-through rate and effective cost per click, is key. That means the keywords you bid on should be closely related to the offerings
Exhaustive –keyword research should include most popular and frequently searched terms and also long tail of search.  Long-tail keywords are more specific and less common, but they add up to account for majority of search-driven traffic. In addition, they are less competitive, and therefore less expensive
Expansive –PPC is a repeated cycle.  To constantly refine and expand your campaigns and create an environment in which your keyword list is constantly growing and adapting
Managing Your PPC Campaigns
After a campaign is created it needs constant oversight to ensure effectiveness. Regular activity is the best predictors of success. Continuous analysis of performance and making these adjustments, optimizes a campaign:
Add PPC Keywords –expand reach of PPC campaigns by adding keywords that are relevant to the business
Add Negative Keywords –add non-converting terms as negative keywords to improve campaign relevancy
Split Ad Groups –improve click-through rate or CTR and Quality Score by splitting up ad groups into smaller, more relevant ad groups, which help you create more targeted ad-text and landing pages
Review Costly PPC Keywords –review expensive, under-performing keywords and shut them off if necessary
Refine Landing Pages –modify content and calls-to-action CTAs of landing pages to align with individual search queries in order to boost conversion rates
3. Web Design
Web design is the process of creating websites. It combines different elements, including web layout, content production and graphic design. While web design and web development are used interchangeably, web design is technically a subset of broader category of web development.
Websites are created using a mark up called HTML. Web designers build webpages using HTML tags that define the content and metadata of each page.
The layout and appearance of elements within a webpage are typically defined using CSS or cascading style sheets. Most websites include a combination of HTML and CSS that defines how each page will appear in a web browser.
Some web designers prefer to hand code pages typing HTML and CSS from scratch, while others use a WYSIWYG editor like Adobe Dreamweaver. This type of editor provides a visual interface for designing the webpage layout and software automatically generates the corresponding HTML and CSS code.
Another popular method to design websites is with a content management system like WordPress or Joomla. These services provide different website templates that can be used as a starting point for a new website.  Webmasters then add content and customize the layout using a web-based interface.
While HTML and CSS are used to design the look and feel of a website, images are created separately. Graphic design hence overlaps with web design as graphic designers create images for use on the Web. Some graphic programs like Adobe Photoshop even includes a "Save for online" option that provides a way to export images in a format optimized for web publishing.
4. What Is Content Marketing?
Good content is the core of marketing.  Content will always "remain the king".  Traditional marketing is becoming less and less effective by the minute.  This is where content becomes a do-or-die.  Content marketing is a strategic marketing approach focused on creating and distributing valuable, relevant, and consistent content to attract and retain a clearly defined audience and drive customer action.
Instead of pitching products or services, savvy marketers are providing relevant and useful content to prospects and customers to help them solve their issues.
Content marketing is used by prominent organizations, including P&G, Microsoft, Cisco Systems, and John Deere as well as small businesses and one-person shops around the because it works.
Here's an example from John Deere on content marketing:
Content marketing affects bottom line —and customers
There are three benefits —for enterprises that use content marketing:
Increased sales
Cost savings
Better loyal customers
It is the present and future –of marketing
Companies send us information all the time –most of the time it's not relevant or valuable or just spam. That's what makes content marketing intriguing in today's environment of thousands of marketing messages per person per day.
The history over years of successful Content strategies:
Impossible without great content
Content marketing should be part of your process, not something separate. Quality content is part of all forms of marketing:
Social media marketing: content marketing strategy comes before social media strategy
SEO: search engines reward businesses that publish good quality content, consistently
PR: successful PR strategies address issues readers care about, not their business
PPC: for PPC to work, great content is needed behind
Inbound marketing: content is key to driving inbound traffic and leads
Content strategy: content strategy is part of most content marketing strategies
What would happen when customers loo forward to receiving your marketing materials? What if when they received it, via print, email, website, they spent 15, 30, 45 minutes with it? What if they anticipated it and shared it?
5.  Social Media Marketing: What Is Social Media Marketing?
Social media marketing or SMM is a form of internet marketing that involves creating and sharing content on social media networks in order to achieve your marketing and branding goals. Social media marketing includes activities like posting text and image updates, videos and and other content that drives audience engagement and paid social media advertising.
Social Media and Marketing: Start With a Plan
Before you begin creating social media marketing campaigns, consider your business's goals. Starting a social media marketing campaign without a social strategy is like wandering in a desert without a map.
Here are questions to ask when defining social media marketing goals:
What are you hoping to achieve through social media marketing?
Who is your target audience?
Where would your target audience hang out and how would they use social media?
What message do you want to send to your audience with social media marketing?
Your business type should inform and drive your social media marketing strategy.
Social media —can you measure ROI of your SM marketing?
It requires a new set of measurements that begin with tracking customers' investments —not yours.
Social media marketing is a powerful way for businesses of all sizes to reach prospects and customers. Your customers are already interacting with brands through social media and if you're not speaking directly to your audience through social platforms like Facebook, Twitter, Instagram, and Pinterest, you're missing out.  Great marketing on social media can bring remarkable success to your business, creating devoted brand advocates and even driving leads and sales.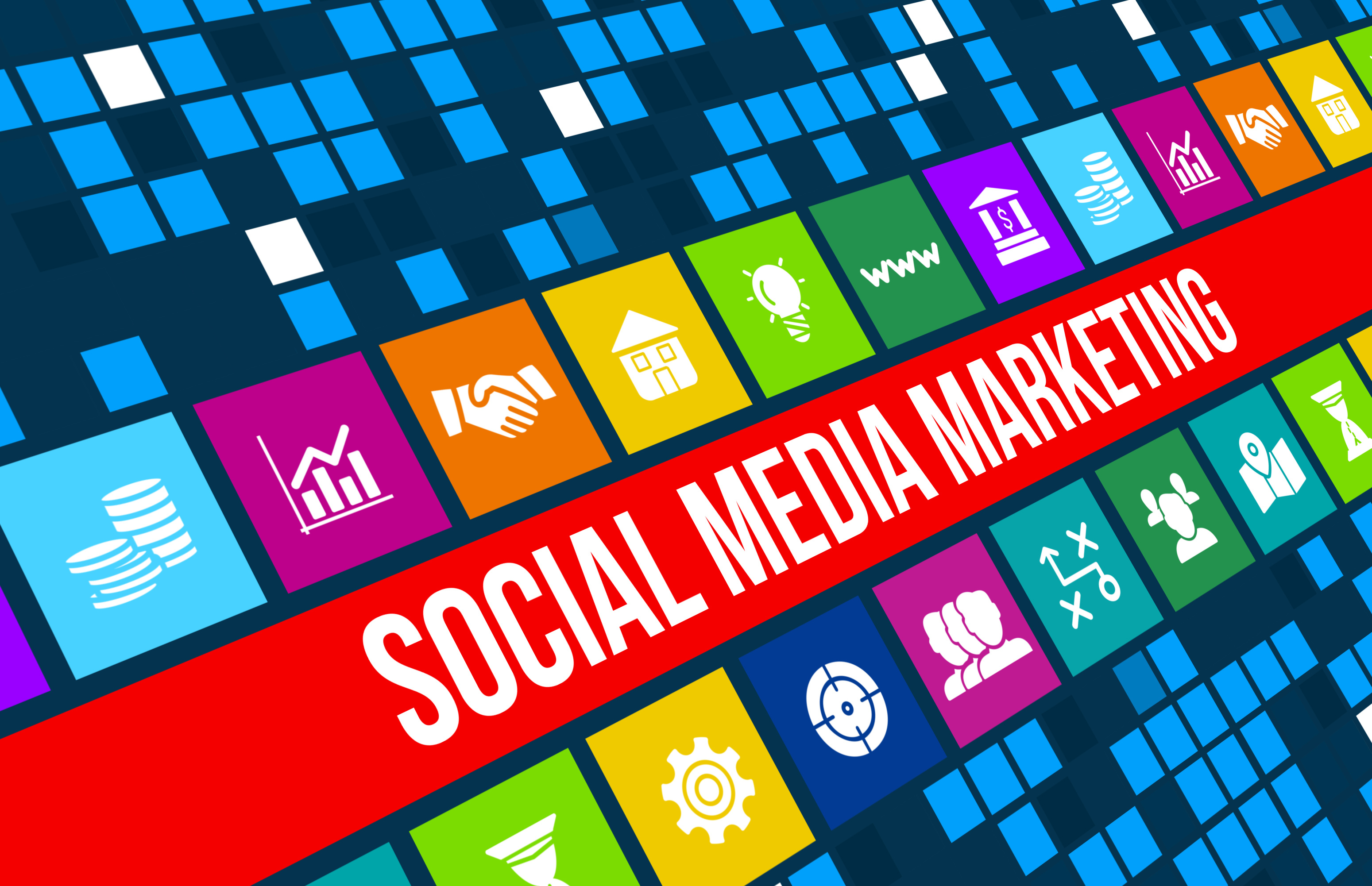 For example, an e-commerce or travel business, being highly visual, can get a lot of value from a strong presence on Instagram or Pinterest. A business-to-business or marketing company might find more leverage in Twitter or Linked-in.
How Social Media Marketing Can Help You Meet Your Marketing Goals.  SMM can help with a number of goals, such as:
Increasing website traffic
Building conversions
Raising brand awareness
Creating a brand identity and positive brand association
Improving communication and interaction with key audiences
The bigger and more engaged your audience is on social media networks, the easier it will be for you to achieve every other marketing goal on your list.
How to Choose SM Platforms?
Here's a brief overview about how to use social media for marketing according to each platform's unique user base and environment. Different social media marketing sites require different approaches, so develop a unique strategy tailored for each platform.
Using Facebook for Social Media Marketing
Facebook's casual, friendly environment requires an active social media marketing strategy.  Start by creating a Facebook Business Fan Page.  You will want to pay careful attention to layout, as the visual component is a key aspect of the Facebook experience.
Facebook is a place people go to relax and chat with friends, so keep your tone light and friendly.
Using Pinterest for Social Media Marketing
Pinterest is one of the fastest growing social media marketing trends. Pinterest's image-centered platform is ideal for retail, but anyone can benefit from using Pinterest for social media purposes.
Using Twitter for Social Media Marketing
Twitter is the social media marketing tool that lets you broadcast your updates across the web. Follow tweeters in your industry or related fields, and you should gain a steady stream of followers in return.Mix up your official tweets about specials, discounts, and news with fun, brand-building tweets . Be sure to retweet when a customer has something nice to say about you, and don't forget to answer people's questions when possible.
Using LinkedIn for Social Media Marketing
LinkedIn is one of the more professional social media marketing sites. LinkedIn Groups is a great venue for entering into a professional dialog with people in similar industries and provides a place to share content with like-minded individuals. It's also great for posting jobs and general employee networking.
Using YouTube for Social Media Marketing
YouTube is the number one place for creating and sharing video content, and it can also be an incredibly powerful social media marketing tool. Many businesses try to create video content with the aim of having their video "go viral," but in reality those chances are pretty slim. Instead, focus on creating useful, instructive "how-to" videos.
Paid Social Media Marketing Tips
We love paid social advertising because it's a cost-effective way to expand your reach. If you play your cards right, you can get your content and offers in front of a huge audience at a very low cost.
6. A Beginner's Guide to Successful Email Marketing
Is email dead?  With all talk of video, artificial intelligence, virtual reality, and chatbots -it sometimes seems like email is long past its prime.  But if you think email is dead, you're missing out on the real metrics. The truth? Email marketing is still going strong today, and is possibly the best possible strategy for your business.
The proof?  Based on 2018 data, email marketing is still ranked as the most effective marketing channel, beating out social media, SEO, and affiliate marketing.
Why is that? With all the hype over new channels, why is decades-old technology still one of the most effective marketing strategies?  The answer has something to do with the fact that people use email more than other platforms. After all, what's the good of marketing to someone if they're not there?
Data from 2017 shows that most people are on email—85% of adult internet users in the US.  That beats out search engines by 15% and social media by 22%—not small numbers in an industry that gets excited over single-digit conversion rate improvements.
That's why building a successful email marketing campaign is more important than ever for entrepreneurs. But there's a problem—most people don't know how to do it right.
Today, you'll learn exactly how to start an email marketing campaign from scratch.
A visitor in their inbox
People are inundated with interruptions, pitches, and ads everywhere.  Though you might think your email is special, there's a high probability that to the reader, it looks the same as the rest.  This is why it's important to remember where you are, and use your good manners as a result.  Getting into someone's inbox is like being invited to their home for dinner. If they ask you to take your shoes off, you respectfully do so.
Step 1: get permission
No email campaign was ever built without getting permission to get started, so first, we'll need to focus on building a sizeable email list. There are many ways you can do this, of course. Some prefer to give something away for free while others simply offer a newsletter or product updates.  It's important to have a clear purpose when asking for an address.
This is where a strong call to action comes into play, and copywriting is super important.  Establish your credibility, explain what the emails are for, and get people interested in receiving them.  Simply posting "enter your email for updates" isn't going to get anyone excited. Instead, consider sharing specifics.
By sharing a specific call to action or benefit to giving your email address, you can get more people to subscribe.
Some common ways to entice people to sign up include:
Email series
Free downloads
Free white papers or eBooks
Update lists, like new releases and product updates
Whatever that incentive is, make it clear and enticing and don't be afraid to promote it.
Step 2: Follow through with great content
Email marketing is all about expectations, and it's up to you to set them.  If your call to action is strong, and your follow-up is consistent, then you can count on a positive campaign. However, if you promise to send one email per week and instead send them daily, then you're setting yourself up for failure.
On the contrary, if someone is expecting daily updates or critical product updates and you don't' deliver, then they are likely to be just as upset.  This is why the first follow-up email is so crucial to the success of your email marketing efforts.
For example, here's a basic welcome email from Airbnb to a new host. It explains the basics of the process and what you can expect to receive from Airbnb.
Almost all email service providers give you the option to create an autoresponder sequence, and it's imperative that you take advantage of it.  The initial follow-up email should be sent immediately as a way to introduce yourself and detail what you plan on doing with your new subscriber's email address.
It's better to be long-winded and detailed than it is to be quick but if you can pull off quick and concise, then more power to you.
From here, it's simply a matter of living up to their expectations.
When to pitch a product
You're not running an email list just for the fun of it—you're there to engage customers and make sales.  But transitioning from an email list that provides tons of free value into a list that pitches a product for money can be a tricky switch to make.
To do it effectively, it's a good idea to think in advance about your pitching. You don't want to surprise everyone with a pitch all of the sudden.  You'll have a much more successful campaign if people expect sales pitches every once in a while.  If you're going to get in the habit of selling often, try to put yourself in the reader's shoes.
Ask yourself if your messaging is consistent with the expectations you've set. If possible, understand what the customer has shown interest in before, and send similar offers down the line. Those that send blind offers are far more likely to lose permission to keep doing so.
How to write a great email newsletter
While we're on the topic of content, let's talk about the difference between a good newsletter and a bad newsletter.  The first sign that you've received a bad newsletter is that you don't recall ever asking to receive it.
Typically, this happens when a business either fails to maintain a regular email routine or uses poor form and manually adds someone to their list after receiving a business card or personal email. Make sure everyone remembers you—the best way to do this is not to let your emails lapse for too long. Try to send at least one a month, with one a week being closer to ideal.
For example, while the email might contain a list of product updates and images, it's balanced by a personal message or friendly memo. As a rule of thumb, try to use your newsletter as a way to further your relationship with the reader rather than to pitch them.
Save the pitch for unique updates, offers, and announcements.
Using the autoresponder
If you're just starting out with an email list, it's easy to imagine you'll have time to personally respond to every new subscriber. But once you start getting more than a handful of subscribers every day, it becomes next to impossible to keep this up. You'll start to get more and more complex campaigns, and following through with everyone all the time is impossible.
Yet top marketers seem to do this exact thing. How? Their secret is autoresponders. An autoresponder does just that—it automatically sends out emails that you schedule in advance. By scheduling a set of emails to send in advance, you can prevent "going dark" for any length of time.
Oftentimes, companies will plan out a series of emails—ranging from a few days to a few months—that automatically deliver, warming up anyone who signs up for your list.  That way, when you do need to announce a new product or sale, you can count on the fact that you've already been in touch.
Since you've built up a relationship over several weeks or months, you're much less likely to annoy your readers.
Step 3: Analytics and segmentationNow that you understand the basics behind an effective email campaign, let's talk about how to take things to the next level.  Specifically, that involves using segmentation and analytics to start refining your broadcasts and generating even better results than you would with a basic campaign.
How to understand your email analytics
We've talked before about the importance of analytics in web copy, and email is no different. Though they're all important, the 3 most important to me are open rate, click-through rate, and unsubscribes. Let's break down each one and see what there is to learn from it.
If your open rate is low, it usually means you have a lot of unengaged subscribers. You need to work harder on providing value and managing expectations.  Next, your click-through rate, or CTR, shows how many people clicked on a link (if any) in your email.
If your CTR is low, it means that your message is either not targeted enough, or simply not getting through. In this case, focus on improving your copy.  Finally, your unsubscribe rate tells you how many people have clicked the "unsubscribe" button at the bottom of your email.
If your unsubscribe rate is high in relation to your opt-in rate, then you've passed the point of building value and writing good copy… you've got some serious work to do.  Email analytics are critical in that if you're paying attention, they'll give you very specific clues as to what you're doing wrong.  Of course, the key variable here is "paying attention."
How to segment your list
If you're unfamiliar with the term, segmentation is the practice of splitting up your email list into more targeted groups.
For example, the following are ways to segment a larger, more unified list:
Customer list (in comparison to leads who haven't bought)
Newsletter subscribers
Daily email list (in comparison to weekly, bi-weekly, monthly, etc)
In dividing your list in this manner, you give yourself the ability to send more targeted communication.  For example, some customers want both product and sales updates, while others might only want to hear about new versions.  Plus, you can even send specific emails to buyers thanking them for their purchase.
How much is your list worth?
Your email list is one of your most valuable resources, and if you learn how to treat it right, the cost of doing so will pay for itself.  Over time, you can start tracking how much money people on your list spend on average. This will tell you how much your list is worth.
If a list of 10,000 people usually spends 50,000 on a campaign, and you run two of those campaigns each year, you could average it out and say that each subscriber is worth 10 a year.
Conclusion
If you've been ignoring email marketing, it might be time to reevaluate your strategy.  Today, email marketing is delivering huge returns for marketers willing to get started with it. It doesn't have to be too complicated.
First, remember you're a guest in the inboxes of your subscribers. Your emails are always just one click away from losing their interest forever. Be polite, respectful, and deliver value.
You'll want to follow through with the promises you make. Provide people what they've asked for and email on a regular basis that lines up with their expectations.
And finally, you can move on to segmentation and analytics once you've mastered the basics. Start sending separate types of emails to different groups of people.